Subjects: EU Criminal Law, European Arrest Warrants
In October, 2015 I attended a course on EU Criminal Law especially for defence counsel focused on the European Arrest Warrant. 
This conference was organised by the Academy of European Law. The lectures were held by legal practioners from Austria and Hungary. The subject of course was the practice of surrender procedures in case of European Arrest Warrants, and legal ways to fight against it.
Rights of defendants in focus of Criminal Law
But besides this the lectures covered the the EU Directives on the right of the accused to interpretation and translation and the proposals, recommendations on the presumption of innocence.
On the next day we continued with small group workshop on the practice of European Arrest Warrant procedures and extraditions in Hungary.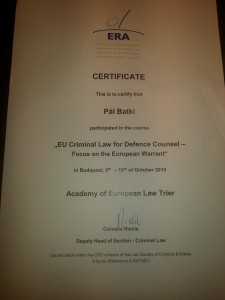 ---
Read my intro page here
You can read many criminal law articles here
You can find information about EU criminal law here